Valerie's Dutch Doll Quilt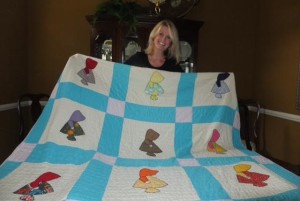 This beautiful quilt was handmade by my paternal grandmother, Elsie Wilder Smith (Mrs. George Smith) of Rose Hill, Virginia. Quilting was a big part of my grandmother's life, and I remember her explaining the quilt tops she was working on. She kept a big box of fabric pieces, and my sister, Kimi, and I liked to look through them. Some of her quilt tops actually had pieces of her dresses that she had worn. The Dutch Doll quilts were given to my sister and me for Christmas, and my guess is the year may have been around 1975? I believe she had intended to make a quilt for each of her granddaughters, but she passed away before getting to do this.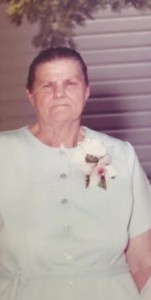 I have always cherished this quilt because it was lovingly sewn by my grandmother, and I have always felt truly honored to have it. Although I grew up in Indiana, the Lee County area is very special to me because of my family. I spent holidays and summers also visiting my maternal grandparents, Mabel and O.S. Goforth. During these visits to Virginia, we enjoyed seeing countless relatives and playing with cousins. We actually lived there in 1973-74 while my father was an administrator with the Lee County Schools. It was great fun for me because for the first time in my life I had family close by! When my father passed away, we brought him home to his beloved mountains to bury him beside my grandmother in Rose Hill. Today I love to visit for family gatherings, and the beauty of the area still truly amazes me.
Information about Valerie Smith Miklozek: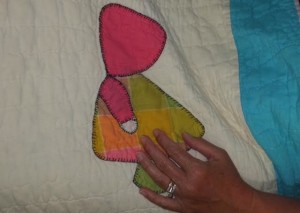 My parents are Jacqueline Goforth Smith Burns and Walter  R. Smith. Both of my parents graduated from Thomas  Walker High School. We moved to  Noblesville, Indiana,  when I was three years old, and my father was the  assistant  superintendent of Noblesville schools. Indiana  has been home with the    exception being the year we lived  in Lee County. My sister and I followed in the  footsteps of  my father and countless relatives as we entered the field of  education. I taught fourth grade for many years, and my sister teaches second  grade. Since 1992, my husband and I have called Carmel, Indiana, our home.    Currently I work for Purdue University and supervise our elementary education  teacher candidates.